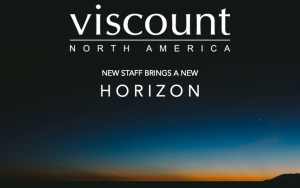 Viscount North America, and everyone at Viscount International welcomes our new Technical and Tonal Director, Robert Darnall of Allentown, PA. Robert comes to us with an extensive personal, educational, and professional background in music, electronics, organs, and the organ industry. He comes to us from a respected organ manufacturer. The new position Robert has is much more comprehensive than just your source for Viscount parts.  He, along with the managing director of Viscount NA, Josh Dove, will be methodically and meticulously making the already stellar Viscount product line completely fine tuned for the North American Market.

Here are a few of the things we will be working on in 2017…
Enhanced factory preset voicing/stoplists on all Physis® driven organs.
More Enhanced North American Physis® Models.
New 'Style' Stoplists available to satisfy the most discriminating organist (early 20th-century romantic American organ from a maker who shall remain nameless, their later more American classic organ, a contemporary American voicing from the last 25 years, along with some fine tuned Baroque, French, and English styles)
The addition of sub and super couplers on select models for a truly American design (even stoptab organs)
In addition to working on these new product developments, Robert is also available to our local dealers and their North American customers for…
General organ consultation
Custom console layouts and design
Custom stoplists
Tonal (voice) recommendations
Audio system recommendations
Pipe integration advice (hybrid organ design)
Advising in product installation and use
On-site voicing
Comprehensive Project Management
Viscount is the independently verified largest organ manufacturer in the world, by revenue, as indicated in Music Trades Magazine.  This new staff addition was a natural step towards the next chapter for us.  We are choosing to invest in our valued dealers and customers with new services and support. From the #1 position, we aren't focused on beating our competitors in producing the best digital organ technology. We already have. We're focused on taking our state of the art Physis® Physical Modeling Technology to an even higher level. We will be making some more exciting announcements soon.
North American Tech Support, Service, and Parts:
US Service Center: 484-857-1174
E-mail: service@viscount-organs.com